One-One High Intuitive Performance Coach
in

g

Only 60 or 90 days to detox generalized anxiety and cultivate true fulfillment and confidence.

Let's be honest Beauty… You deserve to build a strong, vibrant and graceful foundation that makes you feel secure, energized and wholesome. Sometimes we need external support to overcome challenges and limitations so we can get to that next level and ditch what is no longer serving our best life.

Does this Sound Familiar?
You're a 'lone wolf.' You're a go getter and proactive because you're a leader but this also gives you the idea that you have to figure everything out on your own which keeps you tripping up on your saboteur, getting caught in vicious circles of over working with little to no time for 'you.'
As a leader you take care of everyone around you only to feel you sacrifice at your own expense which is leaving you feeling depleted on the inside. You play a good game of poker face keeping it all together but you feel the burden thickening, exhausted from forcing your way upstream. You're tired of feeling cut off from emotional vibrancy, inspiration and true fulfilment as you keep it all together, working hard only to end up overwhelmed.
Living more from your head than your heart, you analyze till the cows come home, and in someways being a 'thinker' has served you but it has also left you unable to connect with yourself and engage deeply with the present moment, alienating you from tasting the juice of life.
Let's face it, vulnerability isn't something you've made much time for in the midst of go-go-go because deep down being a do'er feels more like you. Yet, disconnecting from balancing your feminine and masculine energy has got you trapped and spread too thin, clinging to levels of control that don't give you the freedom and sense of nourishment you crave.
The endless to-do lists have been inevitable for you, and getting bogged down on the never ending treadmill has left you feeling numb inside. Far too often the internal pressure cooker builds as you get clogged up with stress, anxiety and fear. Yet, now more than ever you are tried of not feeling the deep level of connection you crave to create with friends, family and partnerships. It gets lonely not being able to connect at the depth of intimacy you desire all while struggling to receive the love you long to feel.
To everyone else you are a leader with their shizz together but deep down you feel like there is more in you to give, and if anything you might feel like you are underperforming yet you can't figure out the missing piece to cultivate the level of fulfillment you desire to truly 'feel' successful within yourself.
Time to recalibrate, dump your brain on the table and get laser lucid clear about what makes your heart happy, peaceful, fulfilled, inspired and start fresh.
" My Coaching experience was different than going to counselling working with Sian is educational, fun, informative and life changing."
" Working with Sian Changed my life, I don't get anxious about needing to do everything, I lost five inches just from detoxing stress and anxiety, I'm present in the moment and my confidence has changed so hugely, working with Sian for 90 days exceeded my expectations." 
With high intuitive performance coaching you will be guided in a fun and vibrant fashion to learn how to align with a nourishing mindset and habits to rewire your brain and body at lightening speed.
"It is easy to live life from your comfort zone but your comfort zone has a tendency to keep you from the life you truly want to experience. Get bold and shed old layers."
Why Coaching Works…
Working with a coach allows you to clarify your ideas, create your vision and remain accountable to your personal and professional commitments. Having a second pair of eyes to support you through your blindspots and blocks allows you to learn, pivot and shift with ease and consistency for long-term success.
"My role is to support, educate and guide you to the discovery of your own innate confidence and potential one step at a time." – Sian
In-Depth Experience
Personalized coaching is a guided experience that works through your the core foundation of your subconscious blueprint to detox generalized anxiety and self-sabotage using The Vibrant Living Method to rewire your brain and physiology back into coherence so you can align with your authentic self and sovereignty.
Holistic & Scientific Approach For True Transformation
Here you will acquire your new toolkit with scientific tools (Psychology, Neuroscience) and mindfulness based techniques to anchor into your authentic-self & confidence with conviction so you can embody your richly vibrant life, body and business from the inside out.
" I am experiencing genuine happiness, my confidence has grown immensely and sales have increased!"
Qualifications & Life Experience
4 years of Education from UBC in Psychology & 2

years of Human Kinetics

Certified Health Coach
Certification in Natural Health Fundamentals (Alive Academy)
Diploma in Neuro-Linguistic Programming (Brain Training)
Certified Personal Trainer BCRPA
Founder of The Vibrant Living Method
EXPERIENCE
Founder of The Vibrant Living Method (7 Years )
Certified Personal Trainer BCRPA (14 Years +)
My knowledge, experience and expertise moves across many borders. The knowledge, training and my personal experience in my own performance as an athlete and entrepreneur has allowed me to creatively curate and The Vibrant Living Method to deliver custom high-end coaching to support transformation in your life, body and business.
Moving from motivation to inspiration."
SIAN FLANAGAN
BOOK YOUR FREE 15 MIN STRATEGY CALL
HOW DOES COACHING WORK?
+ Book Your Free 15 min Strategy Call Today
First Step: Assessment & Discovery: Assess where you are currently and discover your next action step to get from where you are to where you desired to be in the next 30 days.
Tailored One-one Coaching Process Includes:
+ Tailored High End One-One Intuitive Performance Coaching
+ Easy & simple Assignments + Tasks
+ E-mail, Weekly Follow ups, Session ReCaps and Weekly, Monthly Success Review

The meaning that we attach to in our lives creates our reality."
SIAN FLANAGAN
Group Coaching
Workshops/Webinars
Working in small groups and team settings Sian takes an in-depth approach to create personal exploration and collective collaboration to build meaningful connection. Group coaching takes a focused approach to expand and create clarity individually and collectively on topics that support personal and professional development in Life, body and business.
Workshops & Webinar topics can focus in on areas of expertise to offer new tools, strategies, practices and perspectives that support individual and collective growth from the inside out.
How It Works
+ Contact Sian to curate and design the workshop for your group.
+ Select Location/Online Platform and Schedule the Event.
Book your appointment with Sian to learn more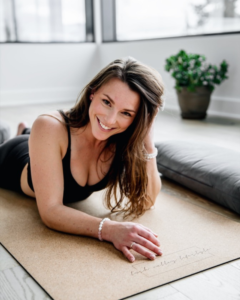 As an advocate of well-being my love for fitness, nutrition and mindfulness comes naturally. I offer personalized health and wellness coaching to support you in developing your mind, body and spirit. Improving your wellness also encompasses bringing attention to your physical fitness. Whether you are looking to upgrade your diet and fitness programming to lose weight, build muscle or challenge your physical fitness goals, my expertise can offer you a creative and progressive approach to achieve results.
Today, I empower others to fine tune the balance in their bodies to support them in achieving vibrancy health and positive lifestyle habits that create sustainable results long-term.
Speaking Engagements
As a Leading Intuitive Performance Coach, Limitless Living Activator and Author my goal is to create meaningful conversations that support, stimulate and elevate people's personal and professional lives from the inside-out.
Discussing topics that inspire soulful leadership and that empowers individuals to cultivate personal sovereignty, fulfillment and success from the inside sets in motion the change for powerful community leaders to lead with soul.

"Sian Flanagan is the complete package. She knows when to push, how to motivate and will make you want to be your best self. With her open mindedness and vast skill set, Sian has the ability to make you want to improve both in the gym and outside of it. She isn't your average trainer. Sian's approach is all encompassing and she will help you reach your full potential. I truly wish everyone had the privilege of working with her."
Sian is an amazing trainer. I had major surgery that resulted in a lot muscle loss, overall strength and stamina. Sian designed workout programs for me which focused on these 3 areas. The results have been incredible regaining the lost strength, energy levels and cardio capacity and feeling better than I have in several years. She meets with me on a regular basis to access my progress and changes the exercises to keep the workout challenging and make you feel good after you have completed them.
Sian is a friendly, personal and knowledgeable trainer that I highly recommend to anyone who wants is looking to improve their physical wellness.
Several years ago I was drifting in my life, wondering how I had gotten so far from where I wanted to be. I took a step forward, and reached out to Sian to help me with my health goals. However, she became a much bigger influence in my life than I ever imagined. From the first meeting we had, I realized that this journey was going to be deeper than just my physical health. Sian has a way of connecting, and understanding the core of a person, and what truly motivates them- this is a special gift in my eyes. Through her friendship, and encouragement I have been able to not only achieve my original physical goals but came to understand more deeply myself, and my motivations. This has enriched my life greatly, and has allowed me to make much clearer choices. Not only is Sian a very inspiring individual, but I also feel her greatest motivation is to help someone truly live their best life. I am very happy I met her, and my life is richer for it.
"It is my absolute pleasure to recommend Sian Flanagan as a Speaker and Mental Conditioning Coach. The moment we came across her we knew she was going to be impactful, we didn't know just how impactful however until she took the mic at our event. She stood up and everything she said was delivered in such an eloquent, empowering, kind and powerful way. The audience was captivated and so engaged, we could feel them light up.
I thoroughly enjoyed my experience working with Sian, and came to know she is such an asset and light to this world, she can speak to anyone and deliver wisdom to them from exactly where they are on their journey. She is honest, dependable and incredibly hard-working. Beyond that she is an impressive woman who is always working to better herself. Her commitment to her work and fully owning it in her space is profound and inspiring.

Her knowledge of communication and ability to share stories powerfully and vulnerability was a nice advantage to our entire community. She put this skill set to work in order to empower our community to step into their fears and create the lives they want. Along with her undeniable talent, Sian has always been an absolute joy to work with. She is a true team player, always looking to add value and help in whatever way she can. She always manages to foster enlightenment, and meaningful conversations, and is constantly choosing to learn and explore more. Without a doubt, I confidently recommend Sian to speak and/or coach for you. As a dedicated and knowledgeable professional, and an all-around great person, I know that she will be just what you're looking for.
"Sian is amazing! She helped me achieve my personal fitness and life goals. She has the perfect combination of knowledge of how the body works; a talent for tailoring my program to achieve my personal dreams (taking into account my limitations) and an unfailing inspirational attitude. You will be grateful every day that you workout with Sian."
"Sian Flanagan lives every word of her teachings in an exciting electrical way that impacts people with her divine presence! When I first met Sian it wasn't hard to miss the direct and vivid way of making greatness tangible, human and complex. She has inspired me with her philosophical guide in how we can aspire to achieve grace and draw upon our inner power. Her approach is as real as it gets and I'm confident she will give her gifts to a rapidly changing world that is in need of truth, integrity and compassion that she encompasses. I'm always left with a smile on my face after a conversation with Sian, and even more I'm proud to call her my friend."

Producer-Return to Happiness (documentary) and                                                                                Author-"Ryan's Journey"
"I met Sian through the wonderful world of Facebook. She reached out to me because she was interested in a movement I started called The Vulnerability Challenge and I have to say I am sure grateful she did.
Sian came to interview me for her podcast and when she left I was a better person. She helped me understand and let go of the pedestal that I sometimes put others on. She took the time to listen where I was coming from and communicated with me in a way that I felt heard and understood. She mirrored me and helped me reframe some of my self- limiting beliefs.
During our podcast session and in depth conversations, I realized that she is one of the most understanding, patient, intelligent, and communicative people I have met.
I am not even Sian's client but I do feel she got through to me in a way that no other counsellor or coach I have ever hired before."
I just want to point out the value I received by hiring Sian for "Mental Strength Conditioning."  In a world that tunes up their cars every year but not their own mind (Think about that for a minute.) I learned so much from Sian and it has made unbelievable changes in my life. I rarely write reviews but in this case I felt the need to. A true diamond in this field, I am excited to watch Sian change the world for the better and also empower and inspire women. I would highly recommend her to anyone that wants to reach their "true" potential or a stronger mental game with different views, angles, insights and valuable "real life" education. Thanks again Sian!
Throughout one of my lowest times, Sian was a bright light that helped guide me out of the darkness. Sian was patient and took the time to actively listen to my concerns and expressed feelings. She demonstrated genuine care for my well-being and made me feel important and valued. Sian checked in with me weekly sharing of inspirational quotes between our scheduled meetings. Sian tailored hey approach to meet my individual needs and to help develop a plan for me to reach my personal goals. One of the things I was ashamed and embarrassed of was my lack of physical and mental ability to really 'dive' into things, but Sian never judged – She recalibrated and allowed me to go at my own pace. Above all, Sian's passion for what you she does and the positive energy she emits is contagious and always had the power to raise my spirits, regardless of how low my mood had been or how stressed I was prior to our meeting.

It is with Sian's help that I was able to change the lens with which I view the world, and to see things in a more positive light. As well, I was able to take the initial steps of being kinder to myself and acknowledging my true strengths.

—Renee Degenais

Dr of Pharmacology